You must not know too much or be too precise or scientific about birds and trees and flowers and watercraft; a certain free-margin, and even vagueness - ignorance, credulity - helps your enjoyment of these things.
~ Henry David Thoreau
Yesterday was one of the kind of days we get a lot of here in the NorthWest, cloudy, drizzly, rainy and a bit of sun thrown in just to make it interesting.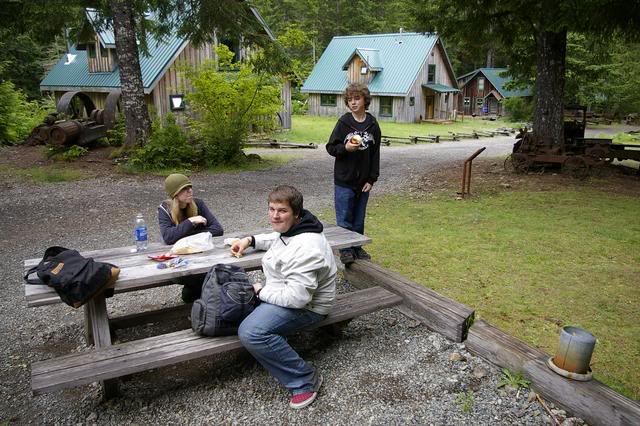 We have an exchange student from germany staying with us for a couple of weeks, Dennis. He is 17 and a good kid. A bit big to call him a kid, but he is a great young man and I do believe he is enjoying Oregon.
The kids had spent Saturday in Portland, so we met up in Mehama, at the
Gingerbread House
. We've been eating there since the early '90s and for a hamburger joint in a small town... the food is good, the people always friendly.
I had spent Saturday with my bud Jeff, or
El Jeffe
as I call him, attending a SweatLodge out in Blachly at
Nanish Shontie
, with Mala Spotted Eagle, his wife Skye and about 10 other folks. Jeff heads up our
Harmony Events Medicine
organization, now a respectable 501(c)3 non-profit.
Mala and I have many shared friends/acquaintances/family... they are off to Europe for teaching and fund-raising and I will get back in touch when they come home. I'd like to spend some time and get to know these two better, spend some time visiting them and their land. At my age I have some history about the indigenous movement here in the US and the place tribal people played in this year's social reminisce, the
Summer of Love
. The old medicine folks, many of who, like my Grampa Semu, Mala's dad Rolling Thunder and others have passed on, all played a part in opening the awareness of that era's youth to the native perspective.
Anyway... after legs were stretched, a few more snacks purchased, we loaded the kids into my car and I headed with them up the Little North Fork Rd. (Of course, like we do anytime we have someone in the car we point out the house along the river Robin was born in -- and throw in the joke about finding Alex in a pumpkin patch) and headed up for Opal Creek and Jawbone Flats.
It is always a pleasure to make this drive and know that when we get to the gate we will have a wonderful day. And it was.
Hardly rained at all while we were hiking... flowers were blooming and the light was good off and on for picture taking. For some reason I don't get into Opal Creek much before June and I usually end up missing the rhododendron and bear grass bloom cycles... but this time... this time we just caught the end of their beautiful flowering season and I was glad -- again -- to have made this hike. Enjoy some spring flowers (also here, bunchberry and gentian):