~~~
"The prize reaffirms our conviction that with truth, courage and determination as our weapons, Tibet will be liberated. Our struggle must remain non-violent and free of hatred."
~ Dalai Lama
~~~
Watching the news this evening on TV and I saw my first summer '08 Olympics ad. Which for me is just a prompt to provide an update.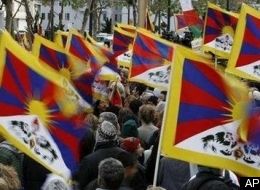 First... I just have to provide a link to this story, provided by the
Students for a Free Tibet
:
Dalai Lama offers help to the Chinese
THE Dalai Lama, Tibet's spiritual leader, has made a gesture of goodwill to China by announcing that he wants to donate to the Chinese earthquake fund, despite Beijing's denunciations of the "Dalai clique" and its description of him as "a demon".

In an interview with The Sunday Times, he said he was worried that a gift to the victims would be misunderstood by China, which accuses him of helping to foment the riots that struck Tibet in March.

The Dalai Lama, who is due to meet Gordon Brown in London this week, adopted a conciliatory tone in his remarks on China, giving strong backing for the Olympics and expressing his desire to become a fully fledged Chinese citizen. "At the moment I am a refugee. But I would like to return to Tibet as a member of China's Tibetan minority," he said.

Although many of his supporters have called for a boycott of the Olympics, the Dalai Lama said he would have liked to attend them. "It is right that China should have been awarded them," he said. "It has the world's largest population and a great and ancient culture. In normal circumstances I would very much like to have gone to Beijing as a spectator."
~~~
Amazing that the Dalai Lama practices what he preaches. There is a lesson there I think we could all heed.
~~~
Out of New Jersey comes this story:
Olympics boycott cry grows louder
The quote I want to provide deals with the
fact
that Tibet is not China's only human rights issue:
Speaking from his Washington, D.C., office yesterday, U.S. Rep Chris Smith, R-Hamilton, an advocate of religious freedom and human rights in repressive countries around the world, said the "grandiose hoopla" of the opening ceremonies will be all about hypocrisy.

"At the very least, we should boycott (the opening ceremonies). Unfortunately, propaganda is ever present, and the Chinese are denying facts about their own government. There is a steady stream of propaganda about (the spiritual practice) Falun Gong, religion and the West."

Smith has criticized China for forced sterilization and persecution of Christians and other religious minorities.
~~~
Another good read is this column from the Boulder (CO) Daily Camera, written for the LA Times by Kareem Abdul-Jabbar:
Jabbar: Olympics Boycott questions: '68 vs. '08
Should we boycott the Olympic Games to protest China's arrogant human rights performance, its political imperialism, its shoddy exports that recently have left some Americans ill or dead?

The answer is no. While it may seem disingenuous to be playing games with countries that aim weapons at us, the same claim can be made about us by many other countries.

I am of a mind that the actions of Smith and Carlos made a difference in 1968. However, this Olympics is an entirely different situation that requires different tactics to achieve a satisfactory resolution. Instead of turning our backs, we need to continue a dialogue with the Chinese.

The more we talk with each other, the more we understand each other and can reach compromises that will benefit the lives of those we are trying to help. Jackie Robinson once said that the great thing about athletics is that "you learn to act democracy, not just talk it." That's what our athletes will demonstrate to the 1 billion Chinese who may be watching.
~~~
For me... I say continue with the boycott pressure. I mean if Ronald Reagan was able to be an instrument in the falling of the infamous Berlin Wall, surely the Dalai Lama can be one of the instruments of peace that tears down the Red Wall.
~~~
PS...
One of the problems with walls? Just as soon as you tear one down, 2 more go up. That Medusa thing, dontcha know...
Israel/Palestine: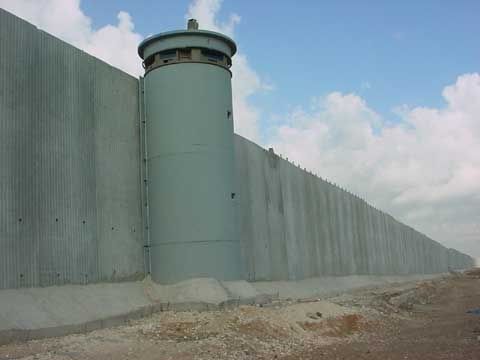 US/Mexico:
~~~
"The only way to deal with an unfree world is to become so absolutely free that your very existence is an act of rebellion."
~ Albert Camus
~~~