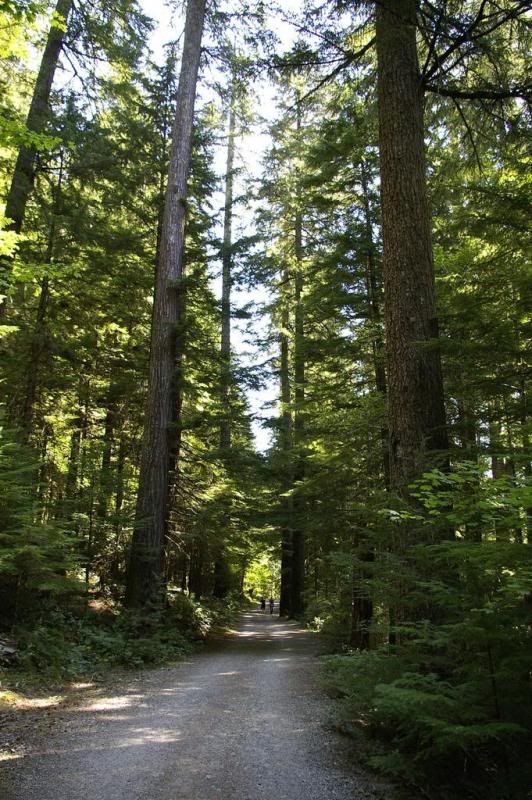 This photo is just inside the locked Forest Service gate and is the entryway to the Opal Creek area. Even to this day I feel a sense of relief when I cross inside that gate. The feeling of security, of being away, at least temporarily, from the crazy and bizarre happenings
outside
the gate in the crazy world of human affairs, is a sensation I've felt only here. I have plenty of beautiful spots in the west to spend time in nature but at Opal Creek there is something else... something that many others feel.
That gate has had plenty of reincarnations. It has been slammed by trucks trying to break through and been shot with shotguns and rifles but it has managed to stand firm against all such assaults. Much like the forest itself.
When I arrived with my old truck and all my worldly belongings I really was clueless. I had no idea of the intensity of the conflict that I was stepping into. I didn't know that I would become a voice for the trees, for the spotted owl... that once again I would be sharing sweatlodges with many people from many places. I didn't know I would work for a wild eyed
en-viroh-mentalist
or be host to politicians, scientists, students of all ages and just ordinary folks discovering for the first time the beauty of the Cascade's temperate rain forest. Sure, I knew I was lucky, that I was going to be able to live in splendid isolation but I had
no clue
how intense a ride I had signed up for...
Have you ever read
Tom Robbins' Another Roadside Attraction
? A psychedelic, larger than life adventure in the Northwest, its a great read and I believe it was actually prophetic for me and my life here in Oregon. In fact... well... never mind... thats another tale for another day.
I suppose I should begin to introduce some of the characters in this very interactive adventure. And naturally, I have to start with the boss, the big Kahuna (for veteran and military types the HMFWBIC), George Atiyeh. When I first met George he had a gorilla mask on and his Doberman
Cody
tangled with my dog
Lance
.
Amazingly, for someone who at one time had a
very
high profile (which is not good when you are a target for lots of people unhappy with you), you won't find a whole lot out about George by surfing the wwweb. A few quotes from reviews of David Seideman's
Showdown at Opal Creek
, mentions in newsletters, in government documents pertaining to Opal Creek, mentions in Time Magazine, High Country News... but nothing substantial about the man himself. George was the lightning rod for Opal Creek. He was the key player in a very heated controversy, orchestrating the original defense and organizing the initial group of supporters into the Friends of Opal Creek. He always reminded me of Gary Larson's
"Bummer of a birthmark Hal"
cartoon...
Unfortunately for George, for those of us living in camp he was our target too. Always trying to do too much in too little time, George was endlesly moving, always talking... I mean
always
talking... but to his credit, there was a lot of talking that needed to be done.
One day George made mention that like Roy Rogers had done with his
horse Trigger and dog Bullet
, he was thinking of having
Cody
mounted and put in the lodge. After some "creative" thinking Paul and I turned this into one of our schticks that we'd use on guests and hikers (the following conversation is a paraphrasing, simple because any of the lies... rrr... stories Paul and I would tell were always changing just a bit, being tweeked for whatever group we were dealing with, or by adding some creative, fantastical detail):
A:"Hey Paul."

P: "Yeah Allan."

A: "Do you remember George talking about having Cody mounted and put in the lodge?"

P: (laughing) "How could I forget."

A: "Well, that inspired a fund raising idea for Opal Creek."

P: "Really?

A: "When George dies we have him stuffed and put in the lodge, standing next to Cody. We install a voice recording of George giving his schpiel on old growth and saving the forest. We put in a coin operated switch that lets them hear George in his own voice and words. For 50 cents they get the real deal from an icon in the environmental movement about one of the flagships in the fight to save big trees."

P: "Wow. Thats a good idea..."

A: "Thanks."

P: "I do see a small problem though."

A: "Whats that?"

P: "Well, now that I think about it, its really not too much of a problem because we can make even more money."

A: "How so?"

P: "You know how much George talks right? We need to put in another 50 cent slot so they can turn him off! Har har har!"
George never minded our giving him a hard time... I think he actually needed it. George is an eloquent man when he hits his stride. He has a good heart, a strong backbone and is usually ready for whatever. I am
really
surprised he has managed to remain so private. On one level however, now that I think on it, it
is
kind of natural. The Santiam Canyon, with the towns of Mehama, Lyons, Gates, Mill City, Detroit... doesn't have a large population, its off the I-5 corridor by 20 miles or so and most folks travel
through
the canyon heading for the mountains or the east side of Oregon.
The Little North Fork of the Santiam River is even more isolated. The road is narrow, curvy, has continuous problems with washouts and slumping and really doesn't go anywhere but into the forest and mountains. In that sense, anonymity is easier to maintain. George has had over 10 years to regain his private life for himself and his family ever since federal protection for the watershed was instituted and by all that I see he is a mighty happy man about it and enjoying his life (which has never really been a problem for him).
You did good George.
We all did good.
Opal Creek is a rich inheritance that any and all that had a hand in its saving should be proud to pass on. It is a tribute to many things, most particularly for me is the example it provides of local activism being effective even when dealing with issues on the national or international level. We can make a difference, we do make a difference. No one will do it for us, least of all the government... the little guy
can
win.
"To waste, to destroy our natural resources, to skin and exhaust the land instead of using it so as to increase its usefulness, will result in undermining in the days of our children the very prosperity which we ought by right to hand down to them amplified and developed."
- Theodore Roosevelt